The Continental Divide Trail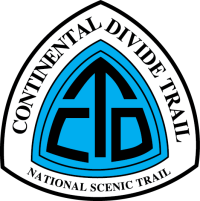 The Continental Divide Trail, or CDT as it is known in the hiking world, is a 3,100 mile trail that follows America's great divide.  This trail is the longest of the main 3 National Scenic Trails that make up the "Triple Crown" of Long Distance hiking the other two trails being the Appalachian Trail 2,180 miles and the Pacific Crest Trail 2,650 miles.  The CDT is not only the longest of the 3 it is also the highest as it follows along the Rocky Mountains.
The CDT reaches its highest point, Grays Peak in Colorado, at 14,270 ft. The trail itself hikes through 5 states: New Mexico, Colorado, Wyoming, Idaho, and Montana. The trail crosses deserts, high alpine regions, and some of the best scenery and wilderness found in the lower 48.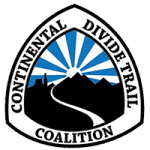 The CDT is not yet completed, and as of now only 72% of the trail is actual trail, the rest of the length one travels during a thru-hike is on roads and cross country. You can help support the completion of this National Scenic Trail by donating to the Continental Divide Trail Coalition who manage the trail through an agreement with the US Forest Service.

Each year roughly 150 people attempt to thru-hike the CDT, hiking the entire length of the trail in one hiking season.  This year, 2016, I too will attempt a North Bound or NOBO thru-hike of the CDT by starting at the Crazy Cook Monument in NM on April 18th. and hopefully, if all goes well, finishing at Waterton Lake in Glacier National Park in August or early September before the snow starts to fly.
For me this is a dream 20 years in the making. After completing my first thru-hike in 1996 when I hiked the Appalachian Trail, I have dreamed of leaving the daily grind behind to go see the US at human speed, with my eye on the CDT.  After numerous shorter thru-hikes of the Wonderland Trail, The Tahoe Rim Trail, The John Muir Trail, The Chinook Trail (I was one of a team of 3 that completed the first thru-hike of this trail) and the Sierra High Route, the desire to go walk for 5-6 months is too strong to ignore, so I will walk the divide and see the US as our ancestors have one step at a time.