Start Wallowa Lake Trail Head
End Eagle Fork Pack Trail Junction
Miles Hiked 20.17, Elevation gain 5,322′, Elevation Loss 3,392′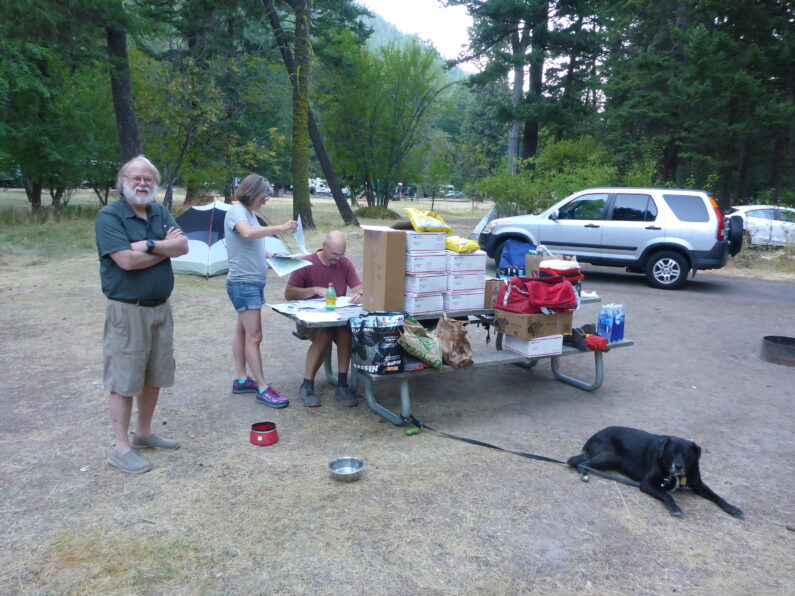 The night before we arrived at Wallow Lakes State Park where we met Ron who had been on the road traveling around Montana for the past month. We caught up on the happenings, started making some plans on when and where to meet us, and enjoyed a lovely dinner before calling it a night.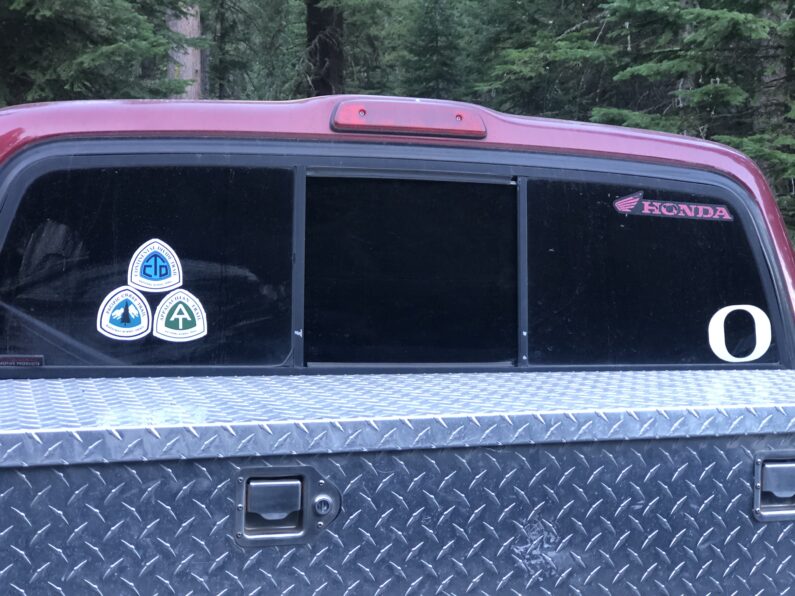 After a bit of a slow start in the morning cooking breakfast, sorting last-minute items, and breaking down camp.  I said goodbye to Suzy and Karluk as they headed out for a scenic drive to Boise to visit an old friend of ours.  The three of us loaded up in Ron's van and headed for the trailhead and the start of our hike.  The weather was a little cloudy and cool, but the forecast said it was about to get hot later that day. We unloaded from the van and put on our packs which we all lamented were too heavy, but that is always the way the first few days out.  We headed to the registration box for our wilderness permits and on the way up the road I spotted a triple crown series of stickers in a red Toyota and I said that to myself, I think that's Aladdin's truck he must still be out here hiking the Wallowa's.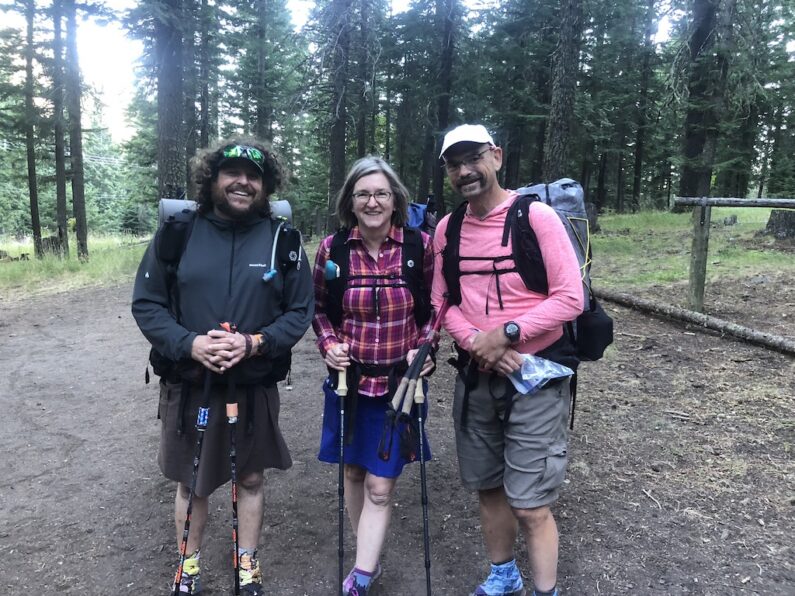 Ron walked up to the start of the trail with us and took a few photos of the 3 of us and said goodbye as he headed the opposite direction on his day hike. The trail was really nice, it climbed slowly along the creek and about 4 miles in it started to slowly gain elevation as we followed the creek. We turned the corner I was happily surprised to see Aladdin hiking towards me with another couple that FeMike & The Punisher had met while hiking the Great Enchantment Trail a few years back and I had met at PCT days when I was manning the booth for ALDHA-West. The 6 of us stood there on the trail catching up about their hikes and ours and all of us lost in thought in how small of a world that long-distance hiking, here we are on a new route yet we could still run into people that we know.
We continued on our way enjoying the nice trail and chatting as we hiked along finally it was time for a lunch break, we pulled off the trail and ate knowing that the next stretch was a doozy as we had to climb up and over Glacier Pass. As we gained elevation, we crossed over treeline and into the alpine zone.  Before my eyes lay a sight to behold, high alpine lakes and steep rocky granite peaks, I could have easily been in the Sierra or the Wind River Range, instead, I was in my own state.  How it ever took me 20 years to come hike in the Wallowa's was beyond me. 

The climb was kicking my butt though, mile after mile of grinding uphill certainly let me know I was not quite in tip-top hiking shape.  COVID hasn't been the best for my exercise regiment, and after all the issues I had after the ODT in 2018, those 10 months of little activity while I worked to fix my foot cyst was catching up to me now. I cursed myself for not getting after it more during the weeks leading up to our departure date.  I was in the caboose position and as I looked up, I could see FeMike and The Punisher making easy work of the climb up to the pass.
Finally, after what felt like hours the three of us stood atop Glacier Pass and marveled in the beauty that surrounded us in 360-degree panoramic view worthy of any postcard. The enjoyment and thrill of making our first pass quickly faded as we had to descend into the next drainage before our next climb up to Horton Pass and the side trail to Eagle Cap Mountain.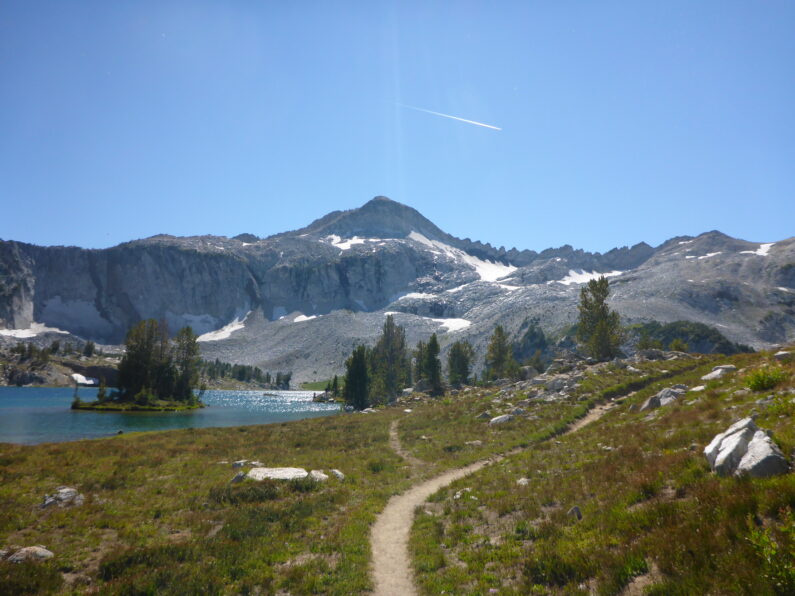 As we descended, we walked by numerous high alpine lakes and said hello to the hikers camped out along their shores, after a quick water stop to top off our reserves, we started our climb up Horton Pass.  The climb was strenuous, and I had to dig deep within myself to keep putting one foot in front of the other, the day had stretched well into the afternoon and I knew I had to keep pushing myself so we could make camp by dark. I made a false summit and was bit deflated mentally but up ahead I could see FeMike getting close to the pass, so I sucked it up and pushed hard.  I finally joined FeMike and The Punisher at the saddle to Eagle Cap, and the three of us had a quick snack and gazed upon the beautiful granite peak that the Eagle Cap Wilderness it is named after.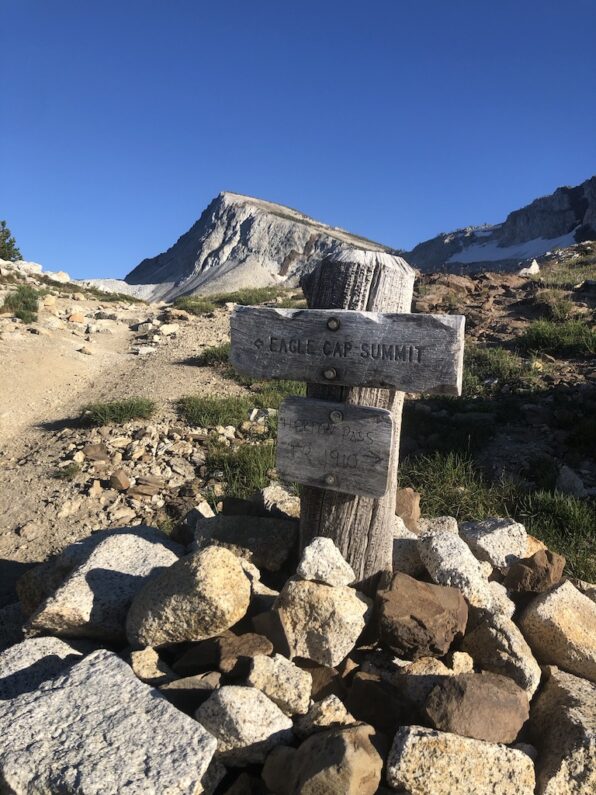 As I sat there munching away on a bar, I reflected upon the story of the Nez Perce people and how hard they fought to keep the sacred land as part of their territory.  I now understood why Chief Joseph's people refused to give up their ancestral claim to this land and I could imagine them living happily in a place of such beauty with steep peaks and wonderful meadows that provided them all they needed to live happily for a millennium.  It was a moment that would repeat itself over and over for me on this trip, a mixed bag of being elated to be out here, but knowing full well I walked on upon hallowed ground with an extremely sad history, to say it conflicted me would be putting it lightly.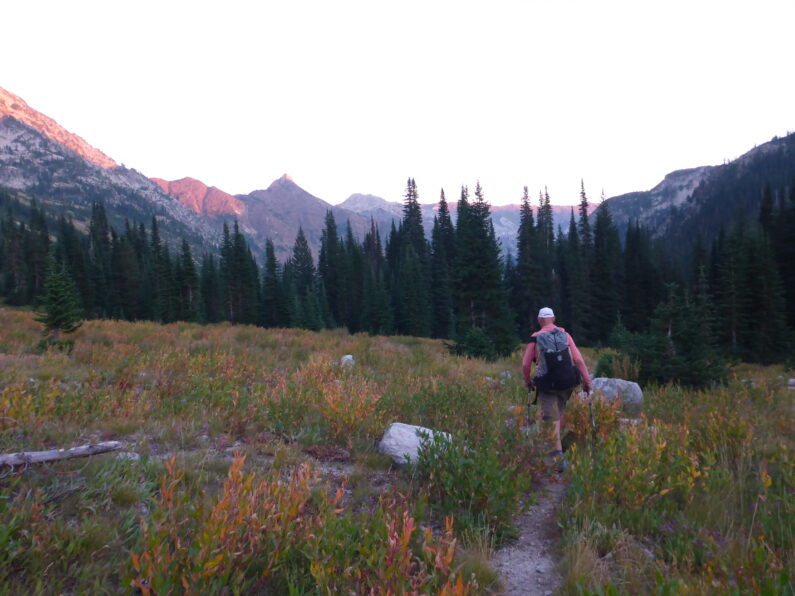 We left the saddle and climbed the last few hundred vertical feet up and over Horton Pass, and began our descent into yet another sea of majestic mountains and granite. We had to be careful as the terrain was loose and slick, made of fine scree that has the same consistency of walking on ball bearings, with each step sliding as you go along. Finally, we dropped down into a stunning alpine valley and found a suitable place to camp right as dark fell upon the mountains. We set up shelters and began our camp chores; filtering water for that night and the next day's needs, we cooked our dinner, wrote down some trail notes, and reviewed our plan for the next day. FeMike and I share the same mindset of being planners, so having a plan for the next day not only helps us stay on track but also helps to mentally prepare you for what is ahead.
As the full moon rose, I crawled into my tent and under my quilt, my body was sore but in a good way and laying down felt wonderful. I shut my eyes and drifted off to sleep quickly with happy thoughts racing through my head, I was finally back on the trail, and the excitement of exploration was taking hold inside of me. The pre-hike jitters had faded away and I felt at home as I lay there in the wilds.