It's time to start giving out my opinion and reviews of the gear that helped me hike the CDT, while I switched out gear depending on; the environment I was in, the conditions I would encounter, and the tradeoff of weight vs comfort, one piece of gear stayed with me all the way my Katabatic Gear Alsek 22 down quilt.  This bag kept me warm and comfortable every single night I slept out, from cowboy camping under the stars only to wake up with a healthy layer of frost on my bag, to the warmer summer nights in Wyoming, never did I find it overly warm or not warm enough.
Now being the MVP in your gear list is a big honor and why you may ask did the Katabatic win out over the other items, well I'm going to break it down for you.
Who is Katabatic Gear?
Many people in the hiking word both serial long-distance hikers to the weekend warrior might not be familiar with this smaller cottage gear maker located in Lakewood, CO.  The company was founded by Aaron Martray who is a long distance hiker, mountaineer, and ice climber.  He wanted a quilt that's was light, warm, and of the highest quality.  When Aaron couldn't find a bag available to fit his needs he went ahead and made his own down quilt for a thru-hike of the Colorado Trail he was doing.  After having great success on the trail with the quilt, he started to make a few quilts here and there and sold them online at places like Backpacking Light 's gear forum.
The beginnings were humble, Aaron made the bags in his two-room apartment in Colorado setting up his one room as the workshop, he stitched the bags himself, designed and built his own down stuffing equipment, which is still used today, and with a spark and a vision he started a viable business and named it Katabatic after the Katabatic effect we all experience in the outdoors where high-density air from elevation rushes down a drainage or in the case of a chinook wind warm air is carried up slope to the windward side of a mountain.
Now Katabatic is an established company with a physical shop in Lakewood, CO where Aaron and his Partner Kris work tirelessly to procure the most high-quality items they can.  The shop has 8 sewers, a cutting room guy who also stuffs the bags and Aaron who not only is the chief designer but also personally inspects each quilt, backpack, and bivy sack before it is shipped out.  Aaron told me on a visit this past spring, "I would rather reject a bag for a bad stitch than have a sub-par product out on in the field."  You see Aaron is a dirtbag like the rest of us and he knows that buying a high quality down product is a major investment for us adventurers and when you are shelling out $400-$500 you want a piece of gear that is going to last you for many trips.
So there you have it an American Dream success story for humble beginnings to a viable business that is helping employ sewers in Colorado and produces the highest quality quilts out there.
Why a Quilt?
Many people ask me, "Why do you have quilt instead of a bag?"
The answers are not so simple, the main reason is that when you have a traditional bag you lay on top of your insulation, this compressing it and taking away its R-value.  So you are basically carrying extra insulation and material that at the end of the day will be compressed and have no real insulating power.  The fact is that your sleeping pad whether a thin foam pad or a luxurious 3″thick air mattress is giving you the real insulation from the ground.  The Neo-air I used has a high R-value so it was more than enough to keep me warm when sleeping on the ground and even the snow in Colorado.
Zippers are heavy, you might not think of it when buying a bag, but that 5′ long zipper is more oz's than you realize, by eliminating the zipper you not only save that weight you also have one less zipper to fail you or give you a headache on the trail.  Let's face it zippers get dirty, break teeth and if you are not careful can snag delicate lightweight fabrics on things like your precious down jacket.  There are a few "quilts" out there by others that have a zipper but I personally feel these bags are confused as to what they are, is it a quilt? No, it's basically a mummy bag without a hood, as useful as teats on a bull.
Now the other reason for me is I am a side sleeper even in the outdoors I lay on my side and tend to toss and trash around during the night.  The quilt allows the side sleeper to be comfortable without feeling constricted or rolling over to find your face planted squarely in your bags hood.  The quilt is frankly just more comfortable than a traditional sleeping bag, and more versatile as I often draped the quilt over me as I sat around in the evening cooking or taking a long snack break on a cold day, its wide top is like a blanket at home and you can even get two bodies under it to warm those chilly legs, like after crossing the Gila River 215 times.
Didn't you get cold when you roll over?
Now the common issue that I hear from folks about not wanting to use a quilt is the loss of precious heat when they roll over at night.  Now I must be honest I hardly ever used the attachment system to secure my quilt to my pad, but on the nights I need to it completely eliminated this issue.  The Katabatic Quilt comes with two options, flat fabric straps to cinch up the back to make it tight to you like a traditional bag but even better the small cord attachment that goes under your sleeping pad makes the quilt and bag one tight and secure sleep system.  When I did use the attachments I was more than warm enough even when a stiff breeze would blow when cowboy camping under the night sky.
The second feature which I used all nights to keep my heat around me was the draft collar at the top of the quilt.  The draft collar is similar to a traditional bag except this one has two plastic snaps that you can use to make the top a secure round draft tube over your shoulders.  I would simply snap up, poke my head through and use the drawcord to close the gaps and keep my warmth in the bag.
Now not having a hood to bury into might scare some, but I always have a wool buff and a fleece beanie so I just put on my beanie, slip the buff over it slightly and down my neck and Wa la, I have a hood.  If you are thinking you might need more than a fleece beanie Katabatic makes a down hood you can wear, it's basically a balaclava made out of the same high-quality materials as the quilts.
Earning MVP Status
Now when you are out busting your hump walking for 12-14 hours a day the one thing you really look forward to is eating dinner and getting a good night's rest to recover and be ready for the next day.  No one likes sleeping cold or being uncomfortable so having a good sleep system is paramount. Knowing that each night I would be buried under 900fp down was one of the reasons I pushed until as late as I could, I knew that even if I only slept 6 hours or so those 6 hours would be comfortable.
The rating on my quilt was 22 degrees, but anyone who owns a Katabatic will tell you that their ratings are conservative.  I have had my bag in temperatures of 0 degrees in Oregon before I left and never felt cold, and most nights I just did up the draft collar and never once felt chilled even when rolling around.  The materials they use for the shell and lining are pertext and I think in over 2700 miles I maybe saw 12 feathers total escape from my bag.  The most amazing thing though is I never washed my bag on trail and it never lost its loft, and I dirt bagged in it every day, no sleep clothes, just jumped in with the clothes I had hiked in all day and still it never lost its loft, but it did stink like me to high heaven.
The quality though is probably the biggest thing, I have owned many bags since I was young Boy Scout at age 10, everything from major brands like Mountain Hardware, The North Face, Go Lite, and Sierra Designs and not one of them compares to the quality of this bag.  High ended fabrics, sustainably sourced down and handmade in the USA make this bag the only one to buy in my opinion.  The makers also gave me an option to get a bag that was cut just for me, with extra wide shoulders, and width yet short enough to sleep my 5'8″ frame without a bunch of extra bag at the bottom.
Often times I would pull my bag out and friends with other cottage bags by folks like Z-packs, Western Mountaineering, and Feathered Friends would take one look at the design, the loft and the ease of attachments and say, "damn I should have gotten that bag" or comment at their jealousy over my super lofty, yet only 24oz quilt.
This quilt is a 5 out of 5 star product and if you are looking to spend the money and buy a bag that will last you for years do yourself a favor and get a Katabatic I promise you will not be cold, you'll be happy and your hiking friends will look enviously at you at night as you snuggle down in the warmth and comfort of your big down quilt.
Side note: My good friend Swami has over 17,000 miles on his Katabatic Quilt. My Friends AYCE and The Punisher each have 8,000+ mile on their Katabatic quilts and let's not forget Snorkel who after years of using some other sleeping bags made the Katabatic switch and has never looked back since.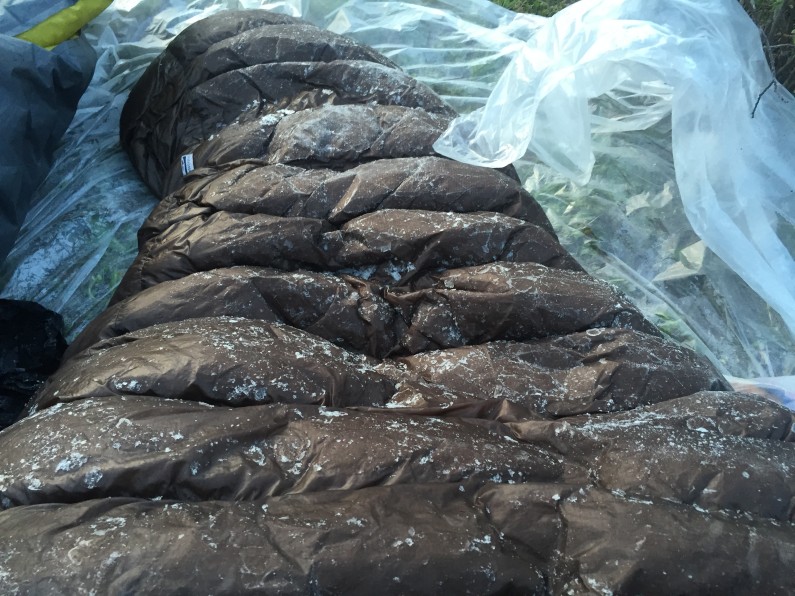 https://katabaticgear.com/shop/alsek-sleeping-bag/