CDT mile 1610.5, miles hiked ~27
We awoke this morning knowing our first task was to get to the green lakes camp and talk to the camp host about the current fire conditions.  All night we could smell the smoke and when we're getting ready to leave you could see it already settling into the valley.
We arrived at the camp hosts trailer and knocked on the door, a nice older lady came out and told us she expected us after seeing buttercup, maverick and soju yesterday.  She invited us in, made us coffee and updated us on what she knew.  The trail was still closed, the fire had grown and yesterday they had pilot cars taking people through the smoke on the highway we needed.  Her husband let us take pictures of some maps so we had a better idea of bailouts and then we headed out.
We next had to climb Gunsight Pass, it was warm today and when we looked back we couldn't see the mountain because of so much smoke from fires.  Halfway up we took a break and drank some water.  We talked about the fires and all of the options but decided to get to Union pass road and see what the story was.
When we reached Gunsight Pass there was a group of ATV riders above us, I went up to see if I could get a cell signal, but no dice.  They gave us the scoop on the fires.  The first one had blown up and two more had started.  They also said Union Pass Road was closed and had been evacuated.  Luckily though they knew the area so we got out our maps and they gave us an alternate route to take.
We ate lunch and then headed down to Union Pass Road.  The miles were slow today we never seemed to make good time and when we arrived at the trailhead we saw the latest forest service info and the official reroute.  The problem was we don't have enough food for the offices reroute so we stuck to our plan and headed to the route we had made.
We arrived at the road closed barrier and right as we walked past it a US Forest Service truck pulled up and asked if we hadn't seen their posting.  We explained we had seen the reroute but were low on food and had a plan to get to Dubois on foot. She told us that she had seen the 3 boys and they had the same plan.  She couldn't give us permission to go but she said we had a decent plan but to be careful and travel fast.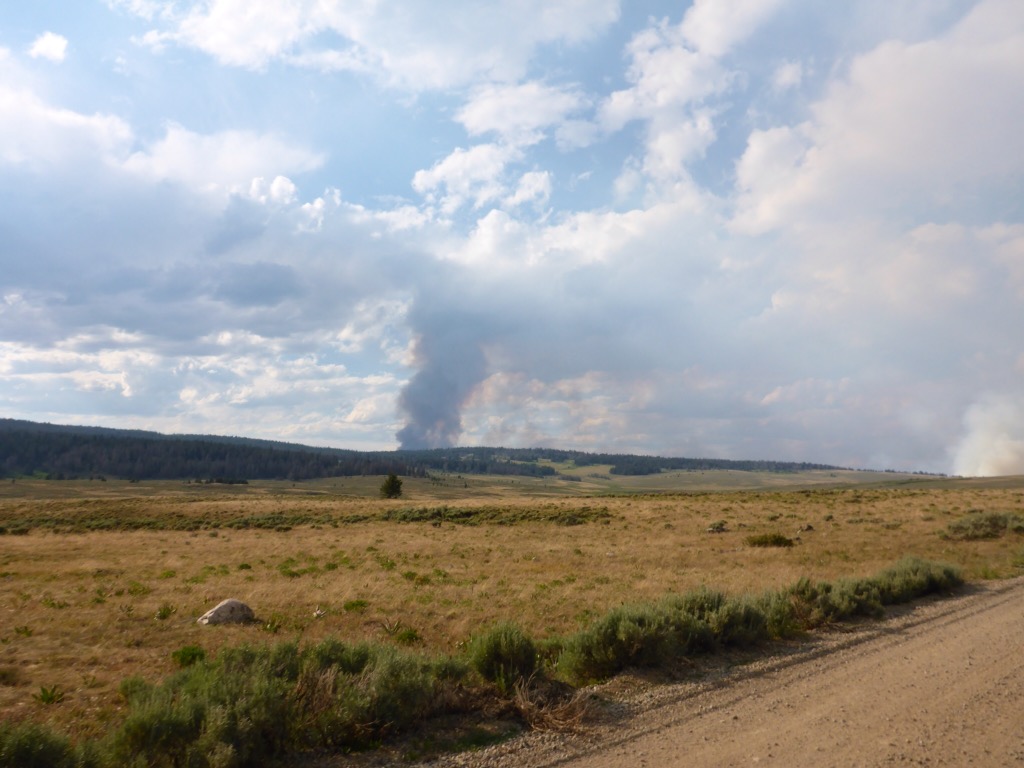 Off we hiked closer and closer to the fire and the billowing smoke.  Every instinct says run away but we keep telling ourselves move forward and stick to the plan.  After dinner, we kept on trucking to the alternate we had made and finally turned into the first of three old roads to take us to Dubois.  As day turned to night we found a small stream and a meadow with no trees to camp in.
We can see the fires glow from where we are and smell the acrid smoke.  Our emergency plan if a fire comes our way is to grab our rescue beacons and go sit in the marsh behind us and wait for help.  Hopefully, we can walk the remaining miles to town and enjoy a nice zero after all the stress of the fires.