The day started like most up at dark, breakfast, and coffee and then each of us packing to get out at first light.  We had all slept great last night in the forest and since we had a lot of roads in our future we were ready to lay down some miles.
We traversed around the mountains and the descended down to the next area.  As we kept going we realized we were heading for the mountains we had watched the sunset over the night before.  We were excited to get into them because they looked so inviting.
We gained altitude gradually all day, then at about 12:30 we stopped at a very dry chicken spring for some lunch.  We had already come 17 miles and we all flopped down, pulled off shoes and commenced eating.  We lounged for close to an hour as we were starting to pack up, Swept Away looks up and says, "look it's Ron". Sure enough, it was him on his way to Fields.  He was as shocked to see us as us him.  He stopped and shared some cookies and drinks with us.  Bonus he had an extra hiking pole and was able to give Swept Away one to replace the one she broke the day before, I tell you this trail destroys gear.
We parted ways and continued on, the scenery just got better and better with stands of aspen trees dotting the landscape and starting to turn their golden fall color.  We passed a hunters camp and said hello, they guys were now hunting for mule deer and we're napping as we went by.
We then started a steep descent to the creek below.  On a grade that made our knees scream in pain, we finally reached the drainage.  We walked an old Jeep road through the aspen stand, so cool to be in the woods for even a brief second.  We finally crossed the small creek where we gathered water.
There was a large campsite by the creek but the temperature there was so much colder because it was in a sinkhole with a creek that we decided to fill up and keep walking.  We had to walk another mile until the hills leveled out and provided a spot big enough for the three of us.  As we set up camp darkened fell upon us.  We ate and joked before all drifting off to sleep.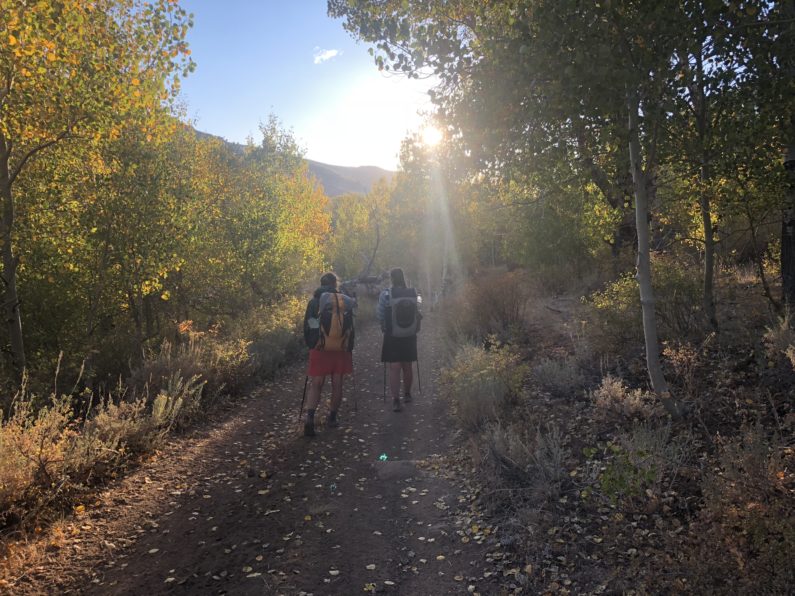 A good long 30-mile day, haven't done one of those in a while and it felt great.  We are pushing hard to make Fields by Saturday so we stay on a schedule to end our hike at the end of the month.  Everyone says we can push it after the Steens Mountain, which is only a few more days away.  So with fresh food in Fields and a 3-day push to Frenchglen I'm sure 30's are about to the steady standard for the rest of the hike.