CDT mile 2561, miles hiked 26.2
We woke up and Immediately they had to run to the restroom, ever since our night in East Glacier my gut hasn't been right but this morning it was all hell breaking loose. I came back from a very unpleasant experience at the restroom and told Tatu-Jo I was not feeling so great. We both hoped it was just a case of town poops and not the terrible sickness he had in the Bob.
We walked on the Old Man Lake trail to start out, and according to the signs and recent information in the news, this is the spot where a park service employee was picking berries and got bit by a grizzly. There was fresh bear scat all over and we made sure to make a lot of noise as we pushed through the berries.
The first challenge we faced today was Pitamakan pass a good butt-kicker to get the heart going. We walked up at a steady pace and 3/4 of the way up saw a momma bighorn sheep and ew, so awesome. We reached the top of the pass and it was cold, gray and windy. I threw on my extra layers and we bombed down to the woods for a break. The trail meandered through a valley and up ahead I saw our destiny triple divide mountain.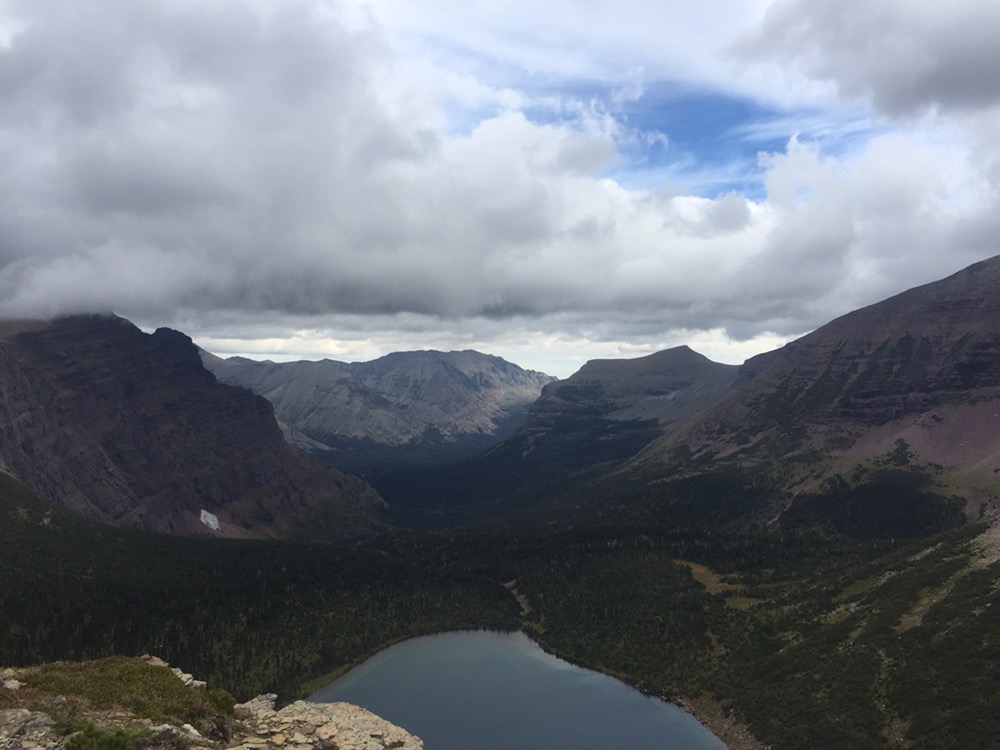 Now seeing how it's super cold and the clouds are low and dark gray, many of the highlights for views were obscured, however, what I could see had an autumnal feel as it made me daydream to Halloween. Anyway, I finally got my head back in the game and I sized up the climb. We started up and after about 3/4 of the way up Tatu-Jo needed a snack. We stopped but not feeling well I forced some food down and some water and told Tatu-Jo I needed to get going.
As we climbed we got separated I was in front and just wanted to get this climb over. I was however slowed down by amazing waterfalls, deep red cliff walls, and sheer mountain beauty, man this place Is the crown jewel of the CDT. Soon I stood atop Triple Divide Pass I threw on my sweet new tourist fleece jacket and waited for Tatu-Jo to get there. We snapped a few photos and bailed low to where it was warm and out of the wind.
We dropped down to Red Eagle Creek and when I went to pass gas I nearly pooped my pants. I dropped my pack and ran into the woods. When I saw Tatu-Jo I asked if had any Imodium and he said he was out. We arrived at the first red eagle lake camps and saw Paul and Chantal. We chatted briefly and Paul had the pills I needed. We said our farewells as that is most likely the last time I'll see them.
We arrived at the far end of the lake and set up our tents. I was drained and feeling ill, but I made my camp and then walked over to the cooking area to get things going for dinner. 4 others were there a nice father and son from Roanoke Virgina and a couple from Minnesota. They had a campfire going and we sat around enjoying dinner and conversation.
As I crawled into my tent the first drops started to fall. As the rain hit the tent I laid down to sleep and hoped in the morning my stomach issues would be resolved.