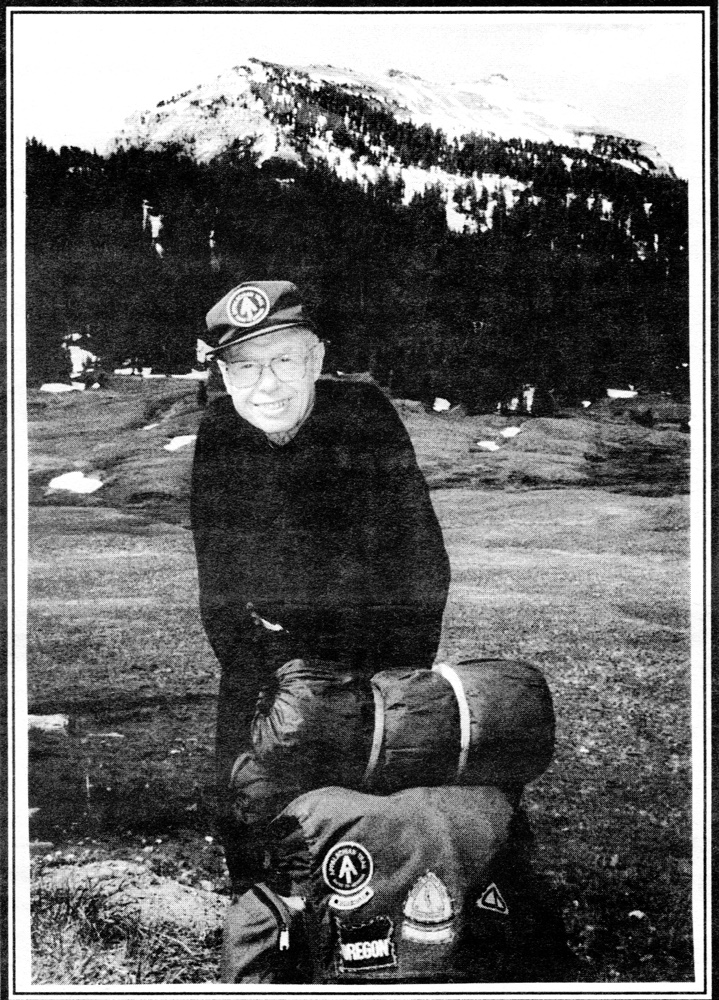 In life, you meet people who become personal hero's and touch you in ways that make you not only change your life but change it for the better.  Brice Hammock was that man to me and many others…..
I woke up in bed next to Lucky who had a few times at night snuggled me, no biggie it happens, plus it's lonely on the trail.  I made us all coffee and when the alarm woke the team we enjoyed a fresh pot of brew and sorted our food and packs before we left to hit the trail.  It was so nice to wear freshly washed clothes and be bathed, our morale was high and everyone was all smiles again.
We said our goodbyes to Lucky and he was off to dig thunder eggs and we were off for the next challenge Diablo Rim.
The first 5 miles out of town were on paved roads, I hate walking on pavement and it hurts my foot but we pushed the miles out pretty easily.  Then we got dirt roads, much better for sure and we made decent time up the canyon.
At the 15 mile mark, it was getting hot and we had to find the water cache that was there for us to get enough water to make the next leg of the hike.  We looked around for 15 minutes and no luck.  I texted She—ra and she sent me a screenshot of her GPS and a description after another 10 minutes I found the cache and we took our fill, ate lunch and carried on.
Next came the final long stretch of cross country for this trip, Diablo Rim.  For the next 12 miles, we would be going across a rim covered in sagebrush and lava rocks steadily gaining elevation along the way.  It was tough as usual, the miles came slow and the heat of the day was wearing us down.  At 5 pm we could see Diablo Peak 4 miles away and decided we would push hard to make the far side of it for the night.  We pushed and we made it to a spot that was sort of campable right as the sun set behind the horizon and dusk fell.
I sat down on my pad and checked my phone to see if I had any messages…it was then that I learned my personal hero Brice had passed on the night before.  Brice and I first met in 2009 when I attended my very first ALDHA-West gathering.  I didn't really know anyone there and it had been some time since my last long distance hike but I was introduced to Brice who was kind enough to spend the better part of the day with me during and between the presentations making me feel welcome and also making me laugh. 
That afternoon he ran the used gear sale and gave me a few bandanas to take home. That weekend I learned that Brice was the oldest person to ever get a triple crown of hiking.  He also told me he didn't even start long-distance hiking until he retired from his forester career.  I was then he said to me, "when I was in my 60's I could keep up with everyone hiking, in my 70's I had to get up and start hiking before everyone so when they passed me later in the day I could camp with them, in my 80's I said enough and just hiked and camped alone."  What a great guy was all I could think.
Over the years I would see Brice at events and reconnect, but when I became the President of ALDHA-West that I really got to know Brice.  He was one of our founding members and as a result, he was also one of my wise advisors when I first took over.  He filled me in on some of the past history, good and bad, but he always supported the changes I wanted to make.  In fact when I first proposed being and 501c3 he was my loudest supporter.  He was also a lot of fun.
Brice even in his 90's still enjoyed having a few cold beers with the lads, swapping some stories and being around young hikers.  In fact, in his 90's he told me he followed numerous hikers blogs and enjoyed reading them daily.  But the greatest experience I had was an afternoon and evening spent with Brice and my old gazette editor when we interviewed him and took him to dinner.
It was that day I learned of his past, as a child growing up in the depression and the hardship that entailed, how he worked for the USFS as a kid, he and his buddy were given a donkey and tools to do trail work in Mt Shasta.  How then told me he went to college on a running scholarship but still had a full-time job to help his family at home.  He then told me of his time flying daylight bombing runs over Europe during WW2.  His life as a forester and how as he cruised timber he would see PCT signs and said, "when I retire I'm hiking that" and he did.  Brice would do his first hike after retiring and in short order, he hiked the big three trails and earned a triple crown before the award even existed.
His greatest gift to me was telling me life was too short to waste and that we should all hike while we can…the next year I would leave my career as a lumber broker to go hike the Continental Divide Trail.  I think Brice had a hand in me making that decision and I have no regrets about going that route.
I know my life is better because I knew Brice and as I sat on the edge of Diablo Rim watching the sunset, I allowed myself to shed some tears and saying goodbye to a great man, I can not think of a more fitting place or trail than the ODT to connect to his spirit.  We're all gonna miss you Brice but don't worry we'll keep your spirit alive at ALDHA-West and we'll all take the lessons you taught us and continue to always try to get the most out the lives we have been given.