CDT mile 926.6, miles hiked 20.5
I woke up to a frozen bag, socks, and shoes….last nights cowboy camp was more like a night back in New Mexico than Colorado.  We were slow to get going each of us not wanting to leave the warmth of our beds.  Finally, after some coffee and some team motivation, we got going.  Probably the worst part was having to soak our shoes in the river to thaw them out so we could put them on.
The trail led us down the nice valley we saw many aspens forest, dee, and even an elk as we strolled along the trail.  Then it happened for the first time on this trip we saw day hikers and weekenders out on trail.  Summer is finally here and with it the unsuspecting tourist that we will try to yogi food and drink from.
I met up with Buttercup and Cheezy at the junction for the hope pass trail which would take us to twin lakes for our resupply.  As we say there snacking a group of trail runners came by who were all training for the Leadville 100 in August.  Some of them had run the Leadville marathon yesterday so this was their second run of the weekend.  Buttercup looked at us and said, I'll see you two up top I am going to catch these guys and pass them." With that he was gone and cheesy and I started our grind up the trail.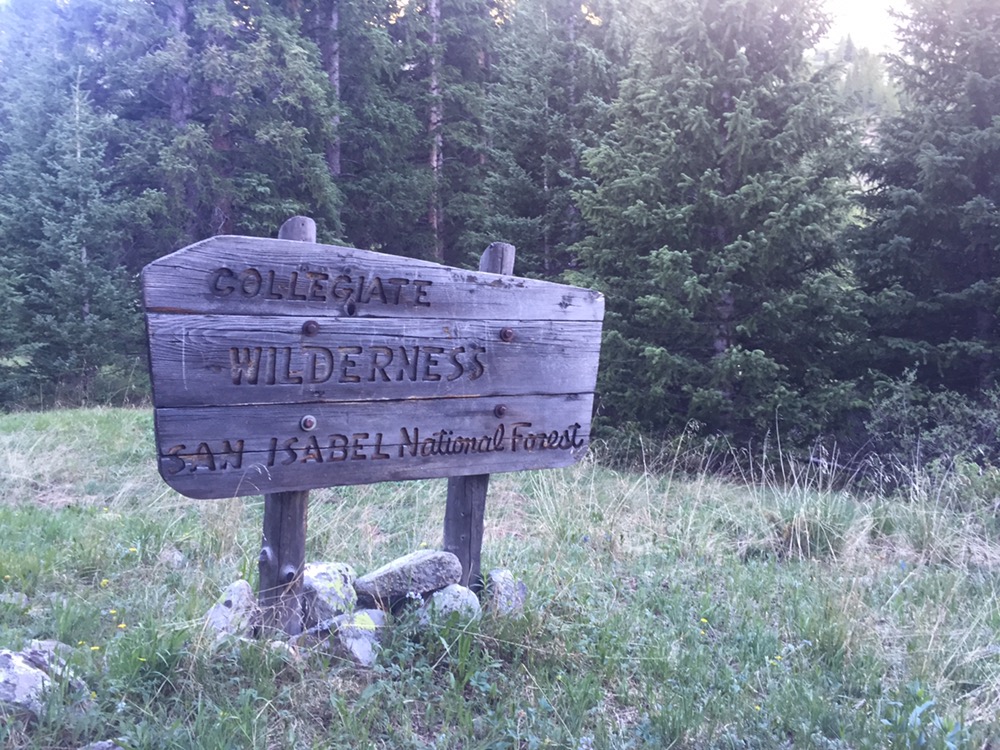 I plugged in my earphones and turned on some music to help me with the 2400′ climb.  First it was Violent Fems but then once I was above tree line I turned on the Royal Philharmonic album of Pink Floyd.  As I reached the last few switch backs The Great Gig in the Sky came on.  This is one  of my favorite songs and the one I want played at my memorial service once I pass on from this world.  As it played uncontrollable tears streamed down my face, I thought of friends I have lost over the years and how each was up there above me looking down and smiling upon me right then.  It's weird I was told I would cry on the CDT but never did I think it would be like this.  Maybe it's the raw emotions you feel because you are open to the universe, or maybe it's fatigue but either way the past few weeks I have had times when I cry and it actually feels good maybe I am growing emotionally and letting down my guard.
Once I finally made Hope Pass I saw Buttercup there he informed me it took him 50 minutes to make the pass ( me shy of two hours).  We waited for Cheezy, talked to more runners and then set off down the mountain for Twin Lakes.
Twin lakes is more of a remote stop than a town.  We walked right up to the food cart and ordered some BBQ.  We ran into Stop n Go who asked to hike this next leg with us, including a climb up Mt Elbert.  After gorging myself on food we went to the store and to our amazement they were well stocked to resupply.  We got our needs and the friendly owners chatted with us for a while.  We charged our devices, had some sodas and then headed out.
We climbed the road up from town into the hills and set up camp early to hydrate and rest before tomorrow's big climb up MT Elbert our first 14'er and the second highest peak in the lower 48.